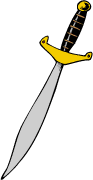 October and November
The most recent entries are here
---
13-Nov-06
My Bat Kite
We spent the weekend in Jurong. It was a nice change from travelling on trains and buses.
I got to fly my kite this weekend. I got the kite for my birthday. We saw a locust while we were flying the kite. I learned how to land the kite you do this by running backwards or running forwards really fast and it will come down. If you all of a sudden stop it will go back up. I f you want to land it you keep running until it hits the ground because then it won't be able to get any more updraughts of wind.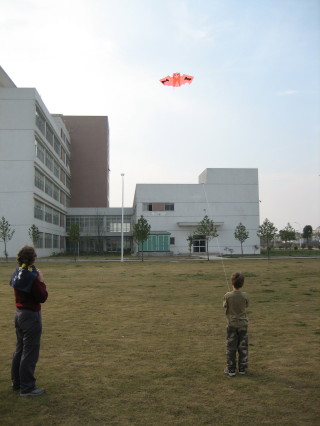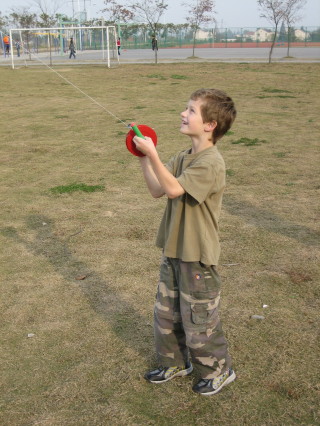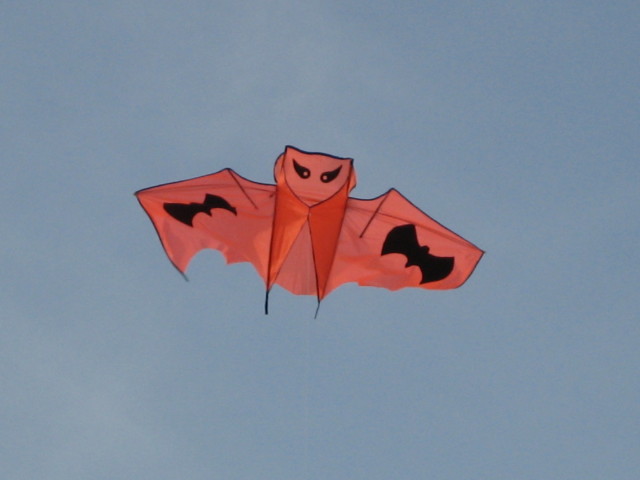 Pei Lin, a teacher at this school, has lent us a bike and I got to ride on the back over to the playground, it usually takes about 10 minutes to walk there.

It is getting colder now but still not as cold as Christchurch. It is officially winter here. The guard is always asking me if I am cold and he also keeps asking me if I want to play badminton with him. I have played badminton with him a few times.

When we were playing badminton with mum's class on Friday I got to meet a little dog called Suji. He is little, white and cute. Suji is a type of vegetable. He eats rice. We went to the school cafeteria for dinner on Friday night but I didn't like the food or the place. It is very big as it has to feed all the students who go to this school and there are over 9,000 students.
---
3-Nov-06
Harvesting Rice
There are lots of rice fields near to us. Yesterday Dad saw some "sheaves" of rice "stooked" or standing up in a small heap like they used to do in NZ in the old days. This rice had been cut by hand with a sickle. We went to take some photos of them but it was just about all lying flat.
We kept walking and saw a funny machine in another rice field. We went closer and Dad took some photos. It was a clever combine thrasher that moved on tracks like a bulldozer. It cuts the rice off and lies it down with the heads at one side and shakes the rice grains out into bags.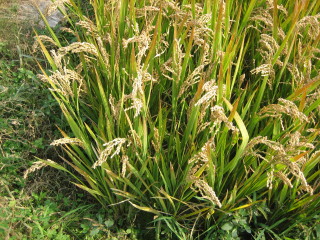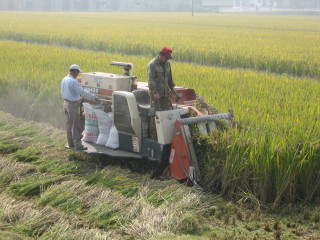 One of the workers let us walk to the other end of the field where they were loading bags of rice on to a tractor to take it away to be laid out in the sun to dry. The buffalo didn't care much about us!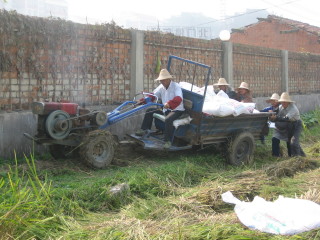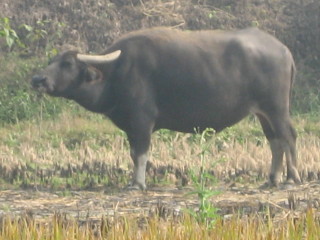 ---
30-Oct-06
Scaffolding Spears
There is a new 6 storey apartment block being built next door to us. They have painted the outside and joined up the water pipes and now are taking the scaffolding down. The men are throwing the pipes down from the top and they are landing like big spears. Some are sticking into the ground and standing up like big spikes.
We went to Nanjing for the weekend. Mum and Dad went shopping for a Breadmaker and a Printer. It was really boring but it is great having a printer because now I can print out my ArtRage 2 (Free) paintings! At church on Sunday I played with Peter, my friend from America.
---
27-Oct-06
Lizard!
Tonight Dad found a lizard lurking behind the curtain. We don't know how it got in but it must have been looking for a warm place to live now that the days are a bit cooler. We let him go outside and he raced off.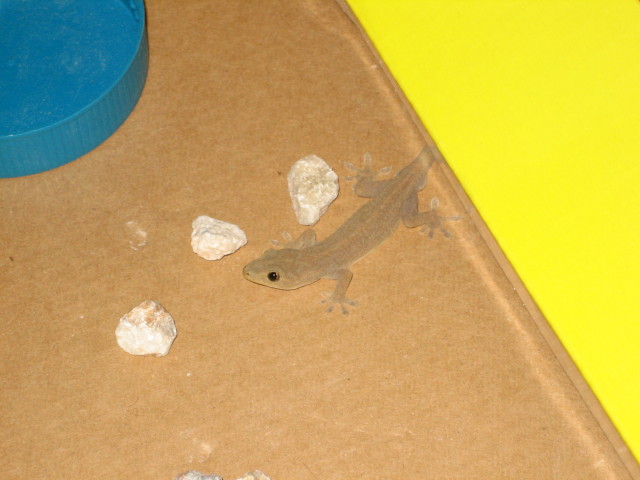 I think it was really cool to have a lizard inside. Dad is not so sure he wants to have one of these in the bed!
---
26-Oct-06
Suzhou Things
We went to see the "Lingering Garden". It is very old and has lots of buildings and funny shaped rocks. I thought it was a nice place but I was really glad that Mum and Dad didn't make me go to the other 3 gardens!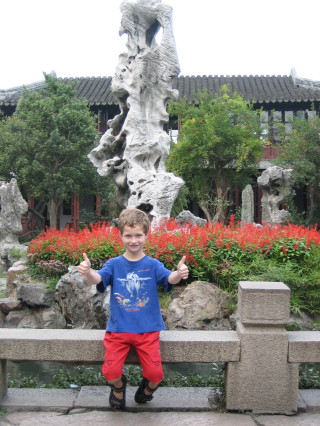 We went to the Silk Museum. Silk fabrics have been made for 6000 years! They had some very old silk garments, looms and a cool big stone that you stand on and rock sideways to "press" the finished silk material. They had a room with trays of silk worms eating mulberry leaves. They look like big white Monarch butterfly caterpillars.
We had a ride in a Motor-bike Taxi - it was so cool and I was sad that we didn't get another ride later that day because they were going to charge us far too much.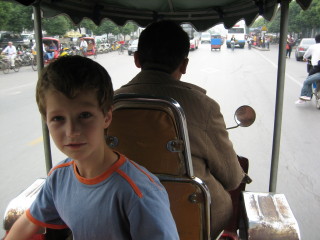 The bus station that we left from to come home had about 20 gates and was as busy and as big as the Christchurch Airport domestic terminal (check-in and departure area).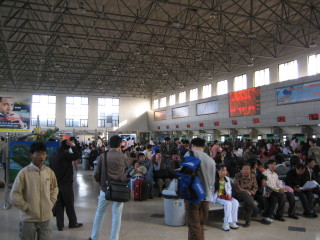 ---
23-Oct-06
The Massive Suzhou Trip
This weekend we went to Suzhou. It is a big city with nearly 6 million people living there. It is famous for its canals, gardens and silk. We went there on a bus and it took about 4 hours to get there. A nice man offered us a ride in his 3 wheel bicycle "pedicab". It was cool but he wouldn't take us where we wanted to go so we had to walk back to the bus station and catch a taxi.
The hotel we stayed in was beside "Shi Lu" a big mall with lots of shops, stalls, fountains, coloured lights, as well as KFC, McDonalds and Pizza Hut! The nearby (really expensive) Holiday Inn Hotel had lots of floors and cool coloured lights and was our landmark.
I stayed up late and we looked at all the lights and the nice fountain and bridge.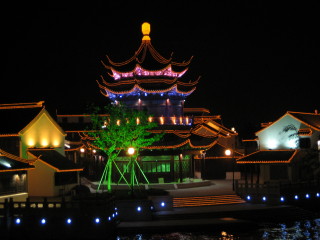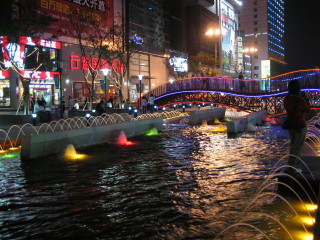 Click here to see a movie of a massive fountain that played in time to the music (large 2.2MB):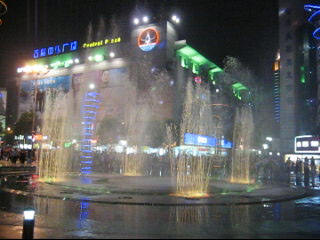 I'll write about the other things we did in Suzhou later this week.
---
17-Oct-06
Yaah Yaah Yaah, Its my Birthday!
Today is my Birthday and I am 8!!!!!
Thank you very much to all the people who sent me parcels, cards, emails or telephoned me! It made me really happy, happy, HAPPY. ("'Happiness overcame me.' What does that mean Mum?", Editor)
I had a huge pile of presents, many more than if I was at home: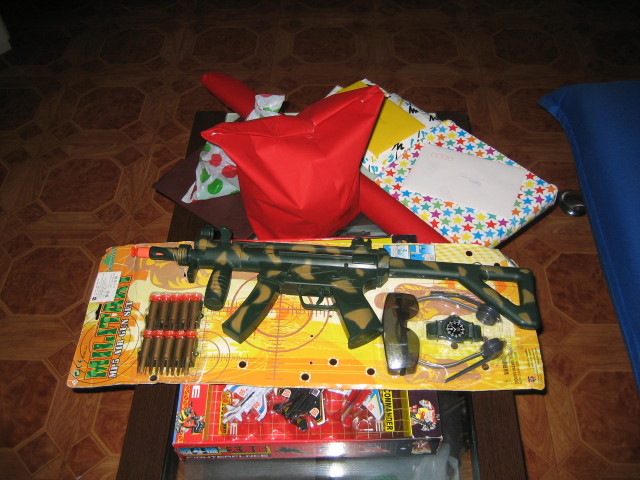 I got these cool presents:
A cool photo of my Harewood School class
A box of Transformers that change from robots to aeroplanes
A toy rifle that uses air power to shoot suction cup bullets (they shoot really well and stick to the door)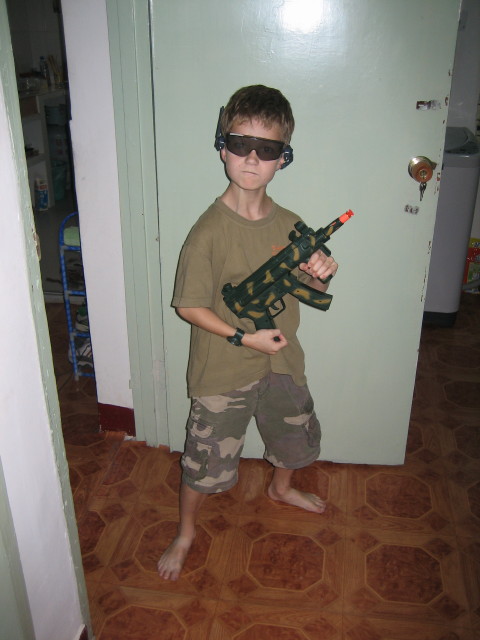 A ball and a Bat kite
A box of Magnetix
2 books
Some Kool Klothing with Kiwis on them
Some very nice cards from NZ
I thought that Gran was going to have to make and eat a Chocolate Cake all by herself (she might do that anyway, Editor) but I got this cool Boy on a Dragon Birthday Cake! The cake was a plain sponge cake decorated with a type of whipped cream. There was no icing - it was all made from whipped cream. Amazing!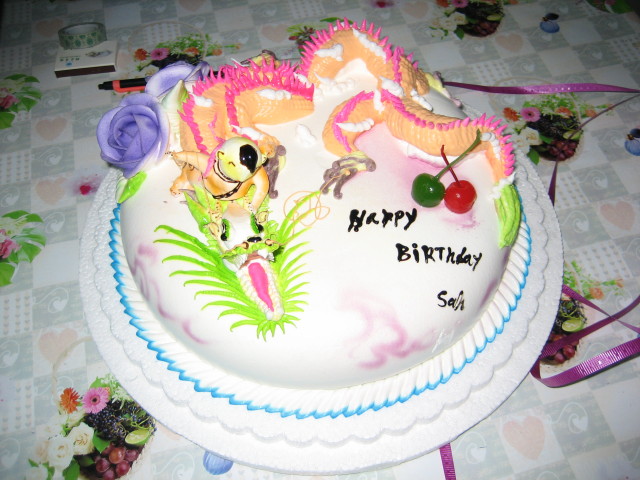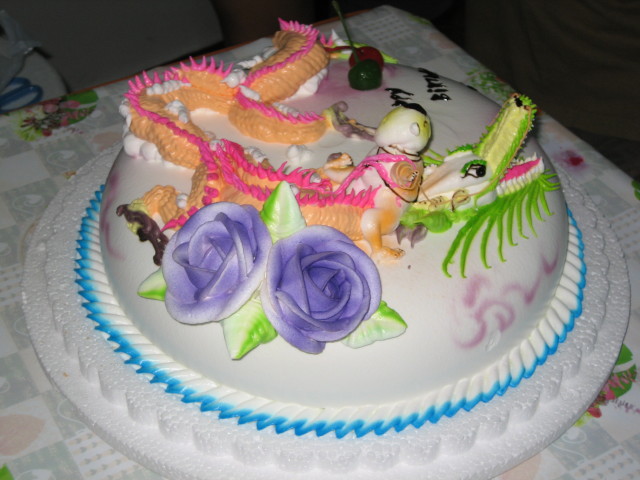 Some of Mum's students came over and helped us eat it.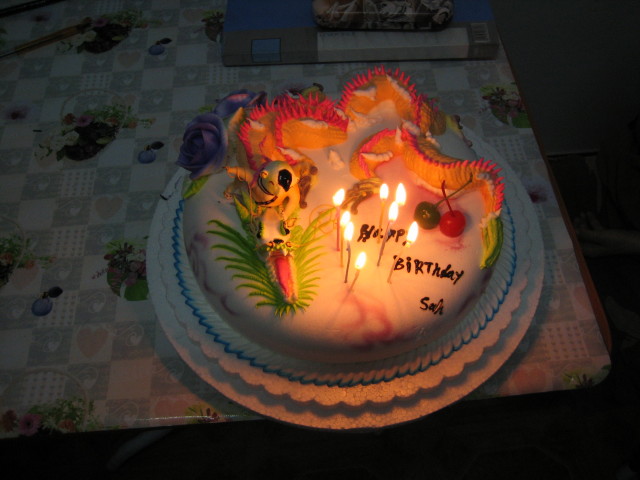 Thank you everyone for making my day so special (even though Dad did make me do my school lessons).
---
11-Oct-06
Correspondence School Materials!
Today we unpacked a huge box addressed to Sam. It has lots of materials from the Correspondence School. It was fun unpacking the box and to play with some of the HTO (Hundreds, Tens, Ones) blocks.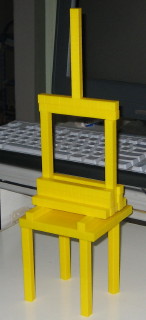 My schoolwork will be much better now than when Dad was just making it up: by 18,150%!


---
8-Oct-06
The Week in Nanjing
We have just had a week long holiday to celebrate China's National Day and Mid-Autumn Festival. Most businesses (including schools) were open last Saturday and this Sunday to make up time! I'm lucky that Dad didn't make me do schoolwork on Saturday and today. We went to Nanjing for the week.
Yangtze River Bridge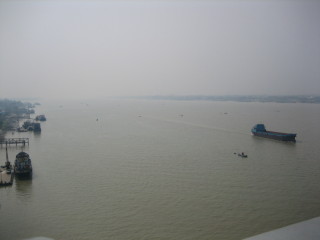 This is the first bridge to cross the Yangtze River in Nanjing. It is a double-decker bridge with trains and cars. The cars go on top and the trains go underneath. It is a very tall bridge and we took the lift from the bottom up to the road level.
Confucius Temple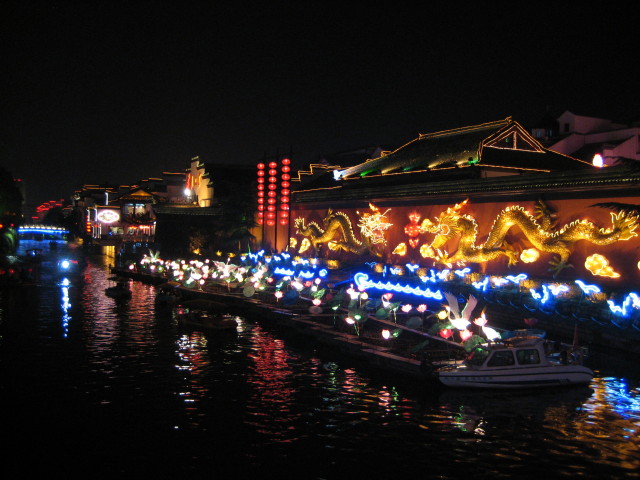 We went to the Confucius Temple. It had lots of shops and street markets. I tried on some silk clothes but we didn't buy them. Mum and Dad said there would be lots more places we could find some. After we left that shop we found several more stalls selling silk clothes.
We had McDonalds for tea - yummy! When it got dark we looked at all the lights and took a boat ride on the canal.
City Gate
Here are some pictures of the huge city south gate. Nanjing used to have a wall like this all the way around but only some of it remains now.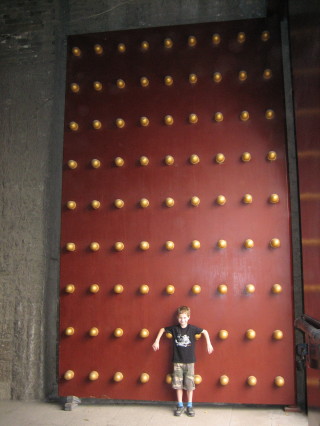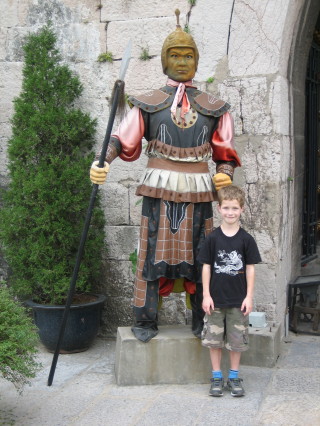 Purple Mountain
It was a long boring bus ride up to the top but when we got off mum and I went to see Underwater World and dad went to another place. On the way back down on the bus the bus driver kept stopping and more and more people got on the bus it was REALLY crowded I was glad we had a seat but we had to push our way out at our bus stop.
Sun Palace
After we got down from Purple Mountain we went to Sun Palace to have a swim. It was an indoor pool with lots of different slides and it had a beach area with pebbles in front of the big pool. We spent lots of time on the slides and the hydroslide. One bit had 3 slides side by side (open like outside slides) with water and we all went down at the same time.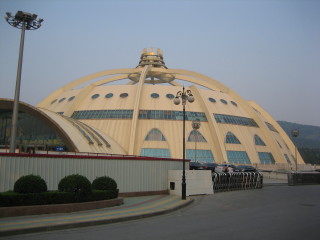 Bus Rides
On one of our trips the bus driver kept slamming on the brakes and we kept jerking around and bouncing on our seats. When we came back from the bridge it was a long trip over 40 mins and mum had a numb bum when we finally got off because I was sitting on her knee all that time. Two people got on the bus with a cage full of chipmunks. They were very cute. Poor little things!
New Friends
I made a new friend in Nanjing, his mum came and picked us up and took us to the fun park. His name is Alan.

Fun Park
At the fun park we drove bumper cars, drove a boat, went in a floaty ball, I went by myself and Alan went with his mum. They kept falling over and only went for five minutes. I got to go for 10 mins since I had two tickets. It was very hot in the ball but loads of fun. I tried fishing for a goldfish but didn't succeed. I made a dolphin sand drawing and peddled around the perimeter on a car thing above the whole fun park (see photo).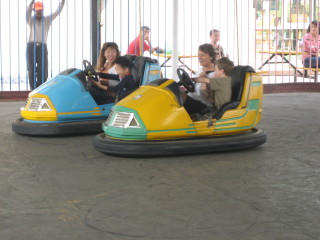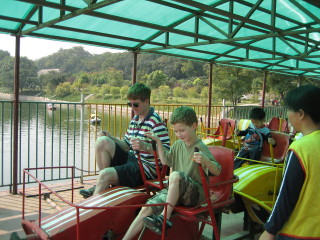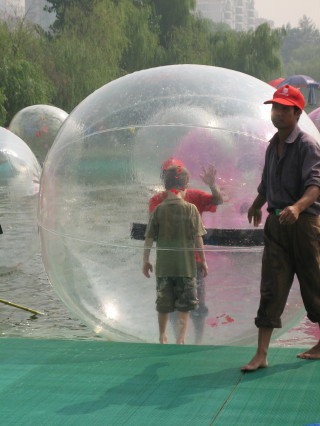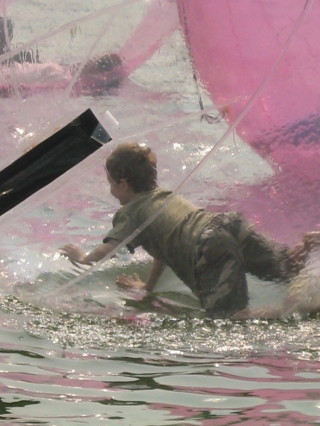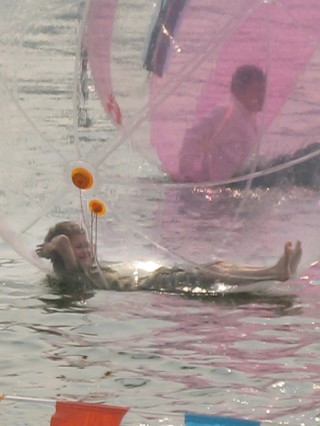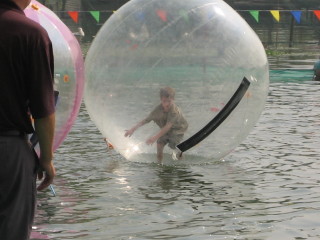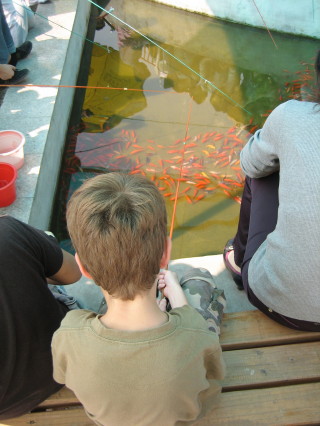 ---
Looking for my older blog entries?
Here they are: