most recent entries are here
---
25-Sep-06
Bugs!
Bugs in China are very different to what we have in NZ. I saw a hornet which is like a huge wasp.
This bug is about 3cm long and flies quite slowly. We don't know its name but people tell us it does not bite (unlike all the mozzies that like to eat us).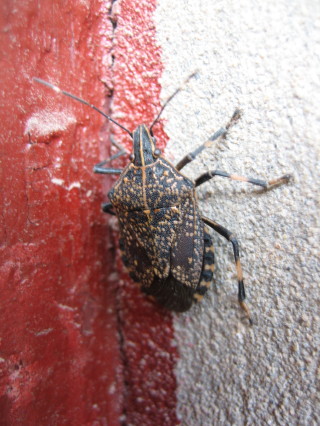 ---
21-Sep-06
Maths and Games!
Most of the time I do maths using computer programs like Treasure Maths Storm and Timez Attack.
Timez Attack is an action game that helps you learn your times tables (
multiplication tables
) from 2 to 12. We tried the demo version and liked it so much that Dad bought the full version for me. This game is fast, cool and you'll need lots of skill to get through it, especially in the Lava level!!
I also tried a game called "Feeding Frenzy" - which is a fun game where you eat fish, grow and eat bigger fish. You have to avoid fish that are bigger then you or they will have you for lunch! Sometimes the fish get upgraded to a new type of fish with a new name. I only played the demo but got through the whole thing.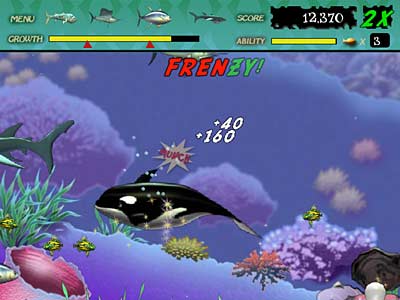 Last night we went to the Pizza shop and tried their pizza! Their Hawaiian pizza did not taste the same as my favourite Spagalimis Pizza.
---
19-Sep-06
My Scooter Ride
Wang Jin is our main contact person at the College where Mum teaches. She met us when we arrived in Shanghai. Wang Jin has a battery powered scooter that two people can ride on. Yesterday I got a ride on her scooter with her when we went to the Police Station to get our residents permits. We didn't wear helmets since cyclists and motorcyclists don't have to wear helmets here. I liked the wind in my face.
The Trip to Nanjing
Nanjing is the Capital city of Jiangsu province. About 6 million people live there. It's a big city with lots to explore!
On Friday my family and I went to visit some Kiwi people in Nanjing. Mum met Hilary and Gary through email after we got to China and they invited us to stay for the weekend. We took an "Express" bus but it seemed so slow and it took almost an hour to get there. It was pouring down with rain when we got there. A man offered to take us in his taxi but it didn't have a meter or real taxi signs and he wanted to charge us too much so we didn't take it. We walked in the rain for a while and then hailed a real taxi who took us to Hilary's apartment block. It was luxury compared to our apartment even though it was on the 6th floor and there was no lift!

We went shopping and found raspberry jam and New Zealand Mainland Cheese and Anchor Butter. Yum!

On Saturday we took buses and the Metro (an underground train) to the big lake near the centre of the city. We walked though the gates in the huge city wall that was built in the 1400's.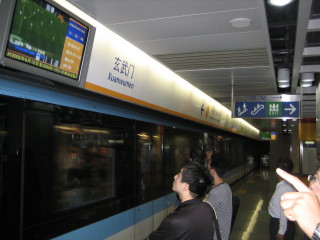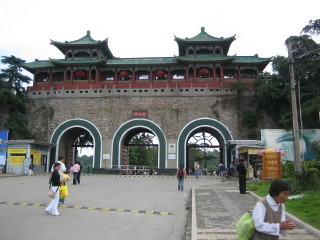 We hired a three-seater bike (should it be called a triple-tandem?) but I didn't have to pedal because my legs were not long enough!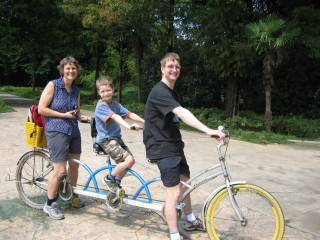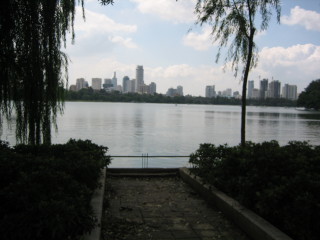 We rode around the islands in the lake and saw these cool dragons: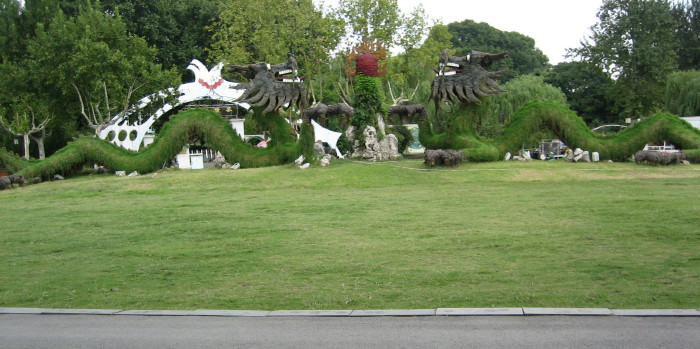 After this we went back to the centre of the city on the Metro and had lunch at McDonald's.

---
13-Sep-06
Making a Dice

Mum wanted a big dice (some people call it a die) for her English class. It was part of my maths work for today to make it for her. For

research

, we looked on the Internet to find interesting facts about the dice: did you know that the numbers on the opposite faces add up to 7? I took most of the photos as we

documented

our process (just in case we need to make another one).

We had a box that we

measured

and found it was a cube. Dad cut it open so we could "turn it inside out" and we marked it out for the dots.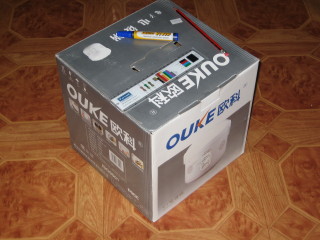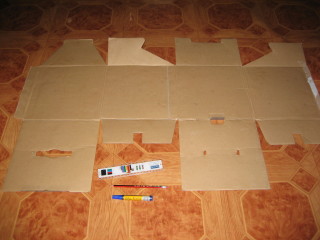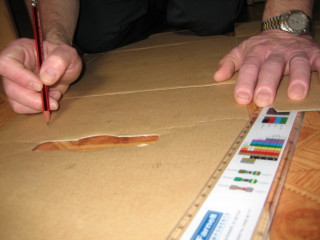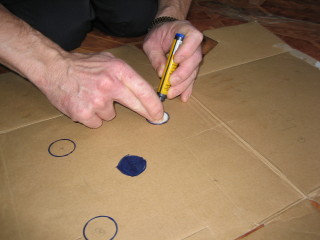 Then we coloured in the dots. After that Dad glued it back together and we closed it up.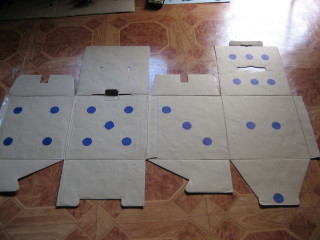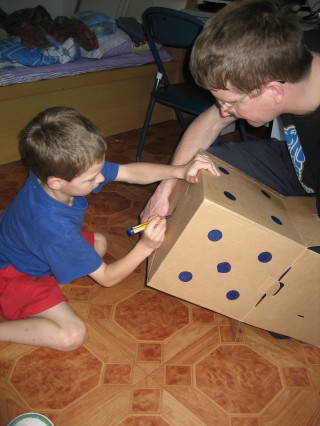 Ta Da!!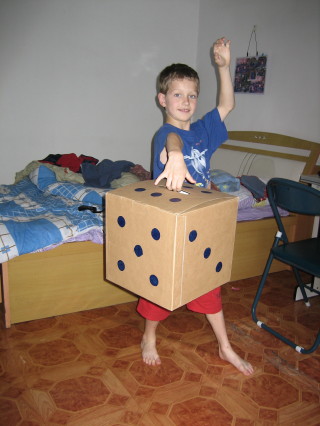 You might just be able to see my class photos hanging above my bed.


---
12-Sep-06
English Corner

One of the classes Mum takes is called "English Corner". Dad and I went along to help her today. We go to the little pagodas in the College "Qin Garden" and sit and talk with any students who come to talk to us. Mum's students think I'm cool and want to come and talk with me. I made 3 new friends and talked about New Zealand.


---
11-Sep-06
My Computer Library

When it was my reading time, we needed to find some more books because I've read the ones I bought with me. Dad found the International Children's Digital Library on the Internet. I read two New Zealand books. One was called "Taming the Taniwha" and is about making your enemies your friends. The other was called "Whirikoki and His Seal".

If you know about any other books that I could read online, please could you send the links to me.

---
10-Sep-06
The Pagoda

Today we we took a huge walk to the pagoda and the lake. Here are some pictures of the pagoda.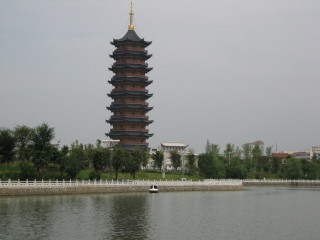 It has lights on it so I want to come back and look at it at night!

When we were walking to the Suguo supermarket, we found a bakery that sold us "yummy as" cakes. Daddy was a little piggy and ate lots of them!

---
9-Sep-06
My First Chinese Banquet

Last night Mum and Dad took me to the Teachers' Day Banquet with some other teachers she works with. Nearly everyone was smoking. We all sat around a large round table that had a spinning glass table in the middle and it is called a "Lazy Susan". I drove the Lazy Susan for a while because there were lots! of different dishes that everyone was trying (except me because I wasn't eating much). I liked the sweet potato called "digua" and I tried some yoghurt milk that I also like.

In China, 10th September is national Teachers' Day. All past and present students remember their teachers and sometimes give them gifts because Teachers are very special people.

---
3-Sep-06
Pictures of Us

Here are pictures of my parents and I outside the gate where our apartment is. The guard lives in a house by the gate.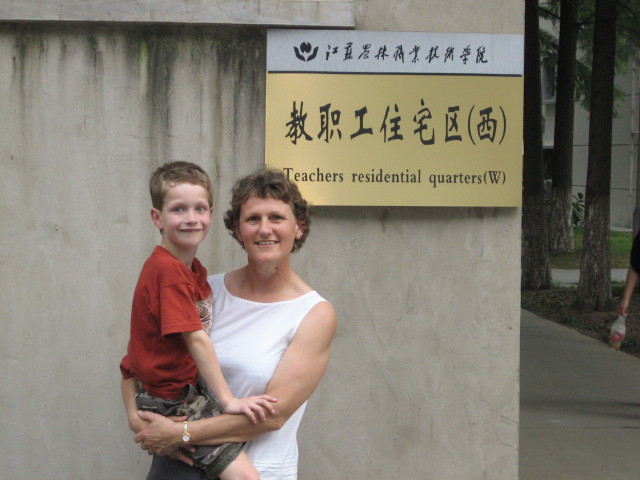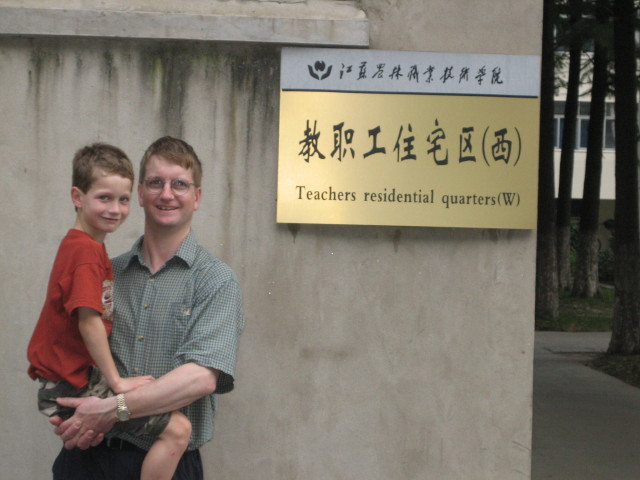 ---
28-Aug-06
The Big Flight

We flew on an Air New Zealand Boeing 777 from Auckland to Hong Kong. It took about 11 hours and then we stood in a queue for about an hour to get through immigration. Mum & Dad said I was very good.

On the plane I played games and watched movies. I watched Ice Age 2 and laughed lots :) because it was really really funny. I played Chess and I beat the computer! I got two yummy meals and I got mine a long time before Mum and Dad got theirs! Lunch was mini hot-dogs and dinner was chicken nuggets.