17-May-07

Adios Beijing
Since Monday, Gran and Neil have been on a "whirlwind" tour of Beijing. It is said that "you haven't seen China unless you've seen the Great Wall". We thought it important that Gran would see China!
Neil and Gran arrived on Sunday evening and stayed at a centrally located budget hotel that is in the Hutongs (alleys). The Dong Si Wu Tiao Super 8 Hotel was comfortable, clean and had free broadband internet as well as RMB10 breakfasts. They arranged a tour to the Mutianyu section of the Great Wall through the hotel.
On Monday they walked to Tiananmen Square and through the Forbidden City. Being white in Tiananmen square is like being a light on a warm summers night - all manner of life is attracted! In Bejing the tourists are swamped with people selling souvenirs, Mao Watches, fake watches and designer bags, kites, water and icecreams. Neil further honed his bargaining skills as we bought some small kites, a tacky Mao wristwatch for TJ and the pièces de ré·sis·tance: a fake Beijing Olympics cap and sunhat. Isn't it great that the fake products are also ripping off the pride of the locals, not just the foreign IP holders?
After completing their walk around the Palace Museum (as it is also known) they took a stroll around the pleasant park directly across the road from the North gate.
On Tuesday they spent the day at the Summer Palace. It was great and much more peaceful than the Forbidden city owing to the large lake and extensive gardens and trees. A highlight was catching a couple of performances at the main stage where Empress Dowager Cixi watched opera.
On Wednesday they went to the Mutianyu section of the Great wall, about 70km N of Beijing. They went on the tour in a mini-van with an English speaking guide and Heinz, a tourist from from Switzerland.As they left Beijing they passed the new Olympic buildings. On this tour there were 2 obligatory half hour tours of "factories and shops": one selling jade and the other cloisonne items. The cloisonne factory had a restaurant where they had lunch. In the morning they visited the Sacred Way, a paved road with monuments of animals, soldiers and officials that is part of the Ming Tombs area. In the afternoon they got to see the Wall for about 2 hours. There were not too many people there and the clear hot day made it a very pleasant experience. Neil particularly noted the "booming" sky and imagined how good it would be to glide above the Great Wall.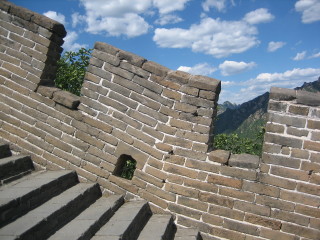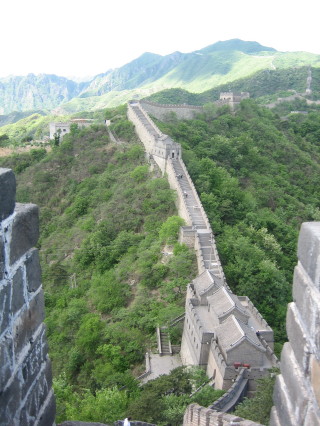 Neil & Gran had spent a whole day at each of the Summer Palace and the Forbidden City and had not seen all of these places have to offer. For those with a limited time in Beijing there are single day tours to the Temple of Heaven, Forbidden City and Summer Palace (plus the obligatory factory shop visits). Such a tour would only provide a glimpse of these places
Neil can't speak a lot of Chinese, but he did come to the rescue of a group of Russian tourists in a restaurant. The waitress didn't understand what they wanted. As Neil had demonstrated a little Chinese when ordering earlier, she brought one of them over to Neil and asked him to translate "salt". Thanks to his PalmOS GSL Xplore M70 PDA phone and the electronic dictionary Plecodict, Neil was able to help. Regrettably, he wasn't so good at translating the rest of the menu so Gran could have exactly what she wanted!
They did manage to find a restaurant serving Peking Duck on the last night of their stay and enjoyed this tasty treat.