20-Dec-06

Concrete Driveway - Chinese Style
The new 6 storey apartment block next to us is now structurally complete. The exterior has been painted, the septic tanks & stormwater have all been finished and pipes covered in. No interior fitout has been done - all rooms are unpainted concrete walls, no windows are fitted and no plumbing/benches/fittings are installed. The crane was removed a while back and they recently laid the new concrete driveway along behind the building.
Sam and Neil watched the concreting process with interest. The usual small army of about a dozen workers hand loaded the on-site electric powered concrete mixer from the on-site cement silo and piles of sand and stone delivered to site.. The concrete was transported around the building in a special purpose tip truck where it was poured and vibrated (using a plate compactor). It took most of the day to lay the driveway and then a few of the men were working well after midnight to float the surface smooth and then apply non-slip grooves.
The finished product looks great. The people from the apartment block alongside the new one now have a fresh shortcut to cycle along rather than having to weave along behind our apartment block.
---
On the Bus
We're skilled users of Chinese bus services now. Last week we all went to Nanjing on Thursday for a McDonald's lunch treat for Sam, to collect a copy of the December issue of Nanjing Map Magazine and buy some groceries from the large Metro Supermarket. The day was rather foggy with viz <100m (see photo - TJ and Sam are down there somewhere).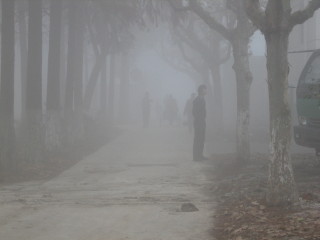 This provided for a hair-raising taxi and bus ride: the locals appeared quite unconcerned by the "blind overtaking" and aborted overtaking when an oncoming truck lumberer towards us out of the murk.
We saw an inexpensive DVD player at the supermarket and agreed to return the next day with some of our DVDs (various zones) and check if they would play in it. So, on Friday, Neil returned to Metro armed with a bunch of DVDs and a small wodge of RMB. The bus trip was unusual in that he sat with a friendly Chinese business-person and had English conversation all the way to Nanjing. After a successful trial of the DVD player at Metro, we are now the happy owners of an NZ$38 DVD / MP3 / WMA / CD-R / Photo player.
Travelling on the Nanjing city buses is an entertainment in itself. Often they are jam-packed full and it requires some effort to get on and/or off. When the buses are very full people pay at the front, step off, run to the back door and climb/squeeze in. In this situation if you have luggage with you then you may be out of luck and should flag down a taxi (as Neil did after he had watched about a dozen overloaded buses go past when he bought the breadmaker and was trying to leave the city centre with rush hour traffic).
Bus fares are RMB1 for any distance on "ordinary" buses and RMB2 for any distance on the airconditioned buses. The buses with aircon also have a TV with lots of adverts. The drivers of the ordinary buses turn the engine off at each bus stop while people get on and off (they stop at every stop) and also turn the engine off while waiting at traffic lights or in traffic jams. Some drivers even coast quite a distance up to the stops.
I'm convinced that China is developing a perpetual motion machine. Most of their vehicles now have early prototypes. They do not need Nitrous Oxide, turbos or any other combustion related performance enhancement: they have horns! Taxis have averagely loud horns. Buses have air horns that are almost deafening - we prefer not to sit at the front of the buses for this reason. Even bicycles sport the Mk1 bell. Electric bicycles/scooters have an averagely loud piezo beeper. All of these motion enhancing devices are used frequently to ensure safe, smooth and speedy passage. I've noticed that when the drivers wear special lead soled shoes, the horns sound almost continuously.